To share its expertise with the community, Launch of the 2nd Academic Week at University of Buraimi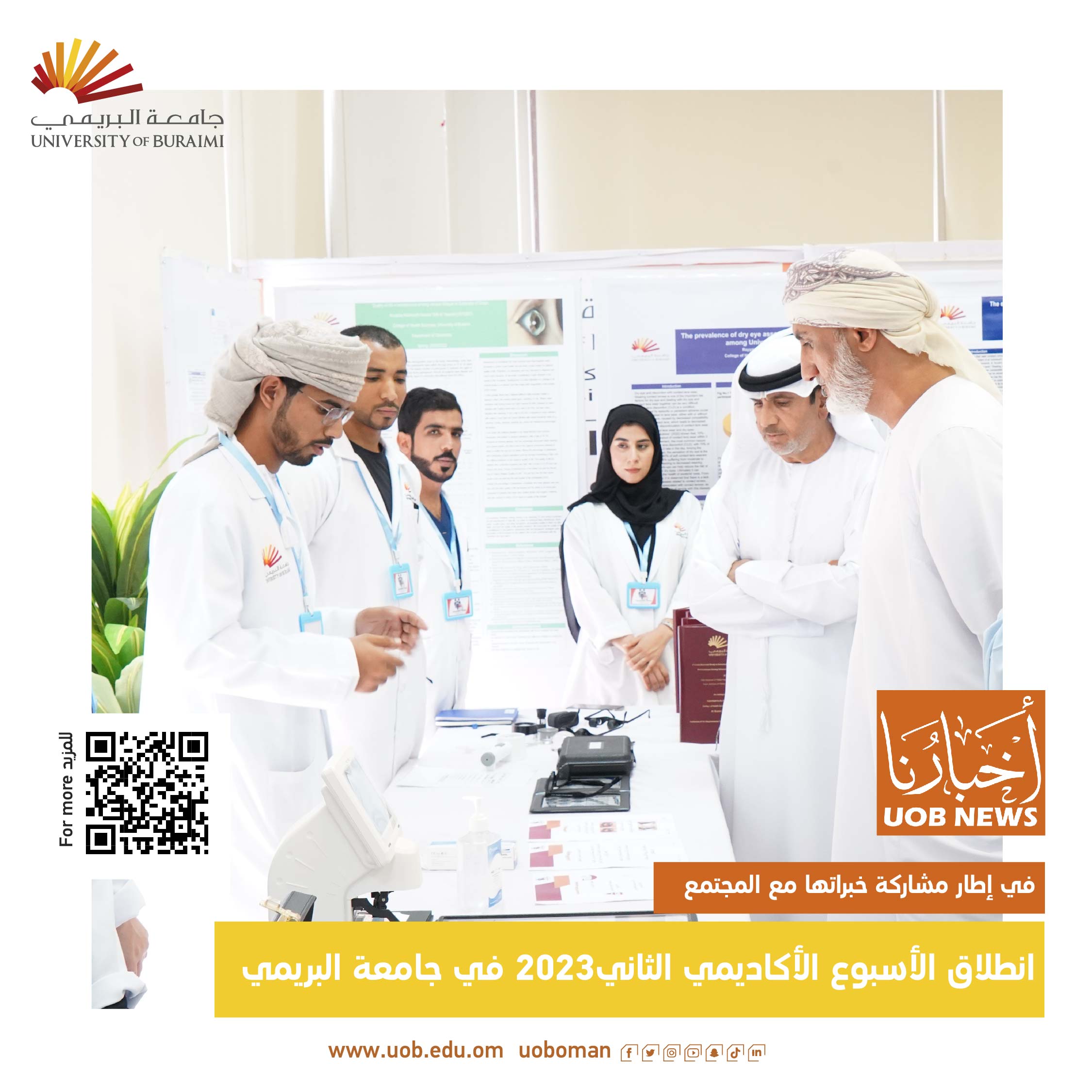 In line with its active role in serving the community and sharing its academic and scientific expertise, the University of Buraimi launched the Second Academic Week 2023, which was inaugurated by His Excellency Ahmed bin Fares Al Azzani, member of the Shura Council and representative of the Wilayat of Buraimi.
The second Academic Week offered a range of scientific lectures and specialized training workshops in various fields that were of interest to students, researchers, and the general public.
The lectures and workshops covered topics in self-development, legal aspects, as well as finance, business, and management. Additionally, important topics in various engineering and healthcare domains were included.
The event also included an exhibition showcasing the contributions of the various colleges and departments of the university, highlighting their roles, responsibilities, and what they can offer to the university and the public at large.
The exhibited items included published papers, books, scientific research, and the participation of colleges in relevant scientific conferences inside and outside Oman.
Moreover, the exhibition featured pavilions for the Training Institute, the Learning Resource Center, and student exhibitions for the Engineering Club and the 'To mellion' Student Company, supervised by the Student Affairs Department.
In his speech at the opening ceremony, Dr. Abdullah bin Saeed Al Kalbani, Deputy Vice-Chancellor of the University for Academic Affairs, Research, and Innovation, stated that the university is making significant progress in achieving various academic accomplishments. During the academic year 2022/2023, over 100 scientific research papers were published in multiple scientific journals, conferences, and books from various colleges. Additionally, a group of faculty members and researchers from different faculties of the university submitted 21 research proposals for internal and external funding, targeting innovative solutions to real existing challenges.
Dr. Al Kalbani also pointed out that the university has strengthened its academic programs to serve the requirements of Oman Vision 2040. This includes the addition of the Renewable Energy Technologies Diploma program in the College of Engineering, as well as two Bachelor's programs in Business Administration, with a focus on e-Business Management and International Business Management, respectively, in the College of Business. Furthermore, the university will soon introduce a Master's program in Criminal Law at the College of Law.
As an annual scientific event, the Academic Week reinforces the university's ongoing and fruitful collaboration with various community institutions and the industrial and economic sectors. It serves to highlight this academic momentum and distinguished community partnership.
Copyright © University of Buraimi2023All Rights Reserved.